"Le Domaine de l'Espitalet"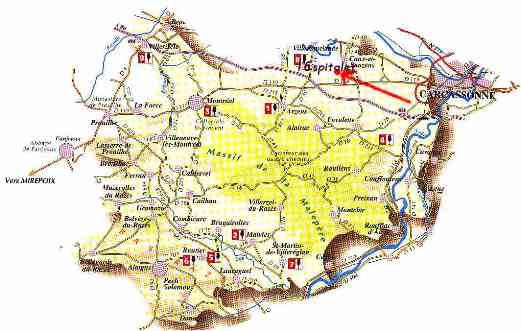 Caux-et-Sauzens
and the Malepère area
Built on the first foot-hills of the Malepère area, Caux-et-Sauzens is located on the crossing of two old communication routes, the via Aquitania, important axis of the Roman Empire, and the road to Montreal.

The origin of Caux-et-Sauzens seems to be a gallo-roman villa mentioned in "The itinerary of Antorum" and which represented in that time a stop on the way from Carcassonne to Hebromagus (Bram).

The town hall of

Caux-et-Sauzens

The village of

Caux-et-Sauzens

Don't hesitate to take a walk through Caux. The village holds rests of its medieval fortification from the 12th century (for example in the rue du Portalet). The parish church is dated mainly from the 14th century. It contents a superb "Lady with child" in polychrome wood. The vicarage of the 16th century is today the town hall. On the "Place de la Poste", you can take a look at an admirable fountain and the charming wash-basin just behind.

Great wines

Côtes de la Malepère.

Taking the road of the Malepère, means sharing the heritage of this territory. From surprise to happiness, from Circulades villages to Cathar sites, from Dominican edifices to walking paths...

The wineries of the Malepère area are waiting for you to share their art of living.

The Malepère area over tourist roads.

Hundreds of tourist roads and walking paths will guide you through the romantic villages of this area.